Tires are among the most important parts of a motorcycle for maintaining optimal performance. H-D tires are tested rigorously to ensure they are manufactured to the highest quality and performance standards
Read more
June BOOM! 20% off install of all H-D BOOM audio products! Must be purchased and installed together.. Some restrictions may apply please see dealer for details. Not to be combined with other promotions or offers.
Read more
All Pre-Owned Bikes are marked down below or at book value! Make an appointment today! 214-495-0259
Read more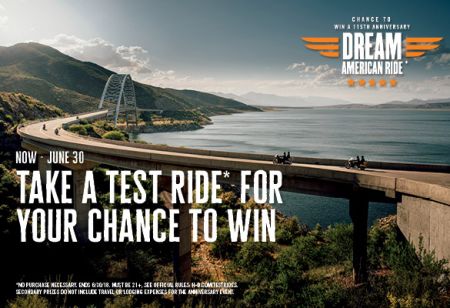 115th Dream American Ride Promotion come to the shop and take a test ride to be entered to win a Free trip! Starting April 1st! NO PURCHASE NECESSARY. A PURCHASE WILL NOT INCREASE YOUR CHANCES OF WINNING. LEGAL RESIDENTS OF THE 50 UNITED STATES (D.C.) 21 YEARS OR OLDER. VOID WHERE PROHIBITED. Sweepstakes ends 6/30/18. For Official Rules, odds disclosure, visit h-d.com/testrides. Sponsor: Harley-Davidson, Inc., 3700 W Juneau Ave, Milwaukee, WI 53208-2865.
Read more