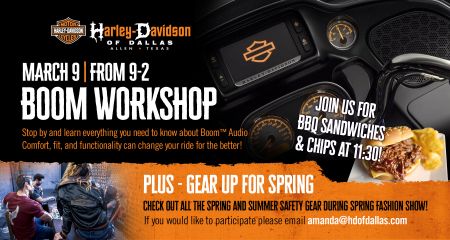 Address
304 Central Expressway South
Allen
Texas 75013
March 23, 2019 11:00AM - March 02, 2019 2:00PM
Spring Riding Gear and BOOM™ Workshop Event at Harley-Davidson® of Dallas
Find out everything you need to know about getting the most out of your BOOM™ Infotainment system. Plus, we'll show you some of your best gear options for spring at our spring fashion show!
Well serve lunch starting at 11:30. Join us for BBQ Sandwiches and Chips! 
Boom Audio Workshop Starts at 9:00 a.m. in the parts department. 
H-D® has come a long way!  Stop by and learn everything you need to know about Boom!™
Comfort, fit, and functionality can change your ride for the better! Gear up for spring- Check out all the spring and summer safety gear during Spring Fashion Show! 
If you would like to participate please email amanda@hdofdallas.com:  Show starts at 12:30
Back to previous page